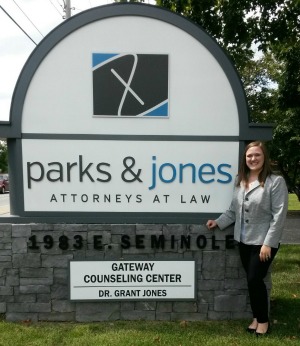 Sutton In-Home Senior Care – Marketing Partner Spotlight
Sutton In-Home Senior Care – Marketing Partner Spotlight
Pictured:  Attorney Kara N. Ransom, Parks & Jones
Parks & Jones
ATTORNEYS AT LAW
Parks & Jones, Attorneys at Law focuses its practice on Estate and Elder Law Planning and Business Law Planning.  Estate Planning and Elder Law are essentially about being in control of your assets, providing for the well-being of you and your family, and ensuring your wishes are honored at different stages of your life and your beneficiaries' lives.  They use a combination of various tools—power of attorney documents, wills, trusts, contracts—to design a personalized plan to meet the goals of each person, couple, or family they meet.
"When people come in to see us they are asking us to plan for an unknown time, an unknown event, unknown laws," says Kara Ransom, attorney at Parks & Jones, "and we do that based on what we know about the current circumstances. As time goes by, we want to make sure each plan morphs and develops with the changing life-circumstances of our clients so their plan will ultimately work the way they want it to when they need it to."
Kara goes on to say, "We love building long-term relationships. Once we have a unique plan designed for a family, we would like to have an ongoing connection … meeting every year or at least every few years so that we're updating and making sure everything we have in place is still the way our client wants it. Life changes; circumstances change; financial situations change; family dynamics change; people's health situations change. So, tracking all those things on a regular basis is what keeps a plan working the way it needs to."
Attorney R. Clancy Parks founded Parks & Jones in 1993; Attorney Cameron G. Jones joined the firm in 2011, and Attorney Kara N. Ransom joined the team in early 2016.
Parks & Jones offers a complimentary 90-minute consultation and is located at 1983 E Seminole St. in Springfield, Missouri. They can be reached at 417-823-9898.
Sutton In-Home Senior Care – Call us: 417-865-8812
Latest posts by Brooke Sutton, President, RN
(see all)