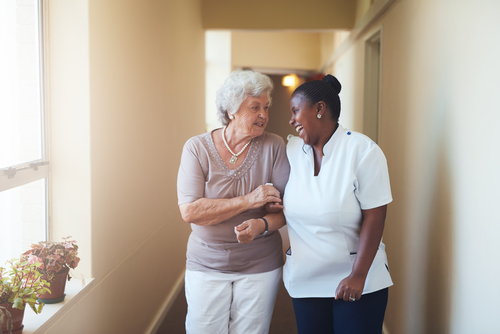 3 Signs An Elder Can Benefit from In-Home Care
3 Signs An Elder Can Benefit from In-Home Care
Today's elders have seen the challenges of war as well as the triumphs of peace. Life was seldom easy, which is why most of the Baby Boomer generation and the Silent Generation are fiercely independent and reluctant to ask for help. However, there comes a time when help is needed. If you have a parent or grandparent who is living on their own, or who is mostly alone during the day, here are signs that they may benefit from in-home care:
Becoming Forgetful Regarding Medication: It is always important to take any medication as directed by the doctor. In some cases, a missed dose, or an extra dose, could be fatal. If you notice that your grandparent or parent is not aware of their medication regimen, or that they are skipping doses, they will definitely benefit from a caregiver who can ensure that they take the correct dosage at the correct time.
Becoming Lost in Familiar Neighborhoods: Memory problems are a common part of aging. However, severe losses of memory can be dangerous if one is alone outdoors. If you notice a loved one forgetting the way home in the neighborhood where they've lived for years, it may be better to ensure that they are supervised during their daily walks. An in-home care expert can help ensure that your loved one gets the exercise they need while staying safe.
Feeling of Isolation/ Loneliness: If you have a grandparent or parent who lives alone and is either emotionally or geographically isolated from friends and family, it's time to find help. While some people like being alone for certain periods of time, human beings in general need a community to thrive. Elders who may have lost many people within their age group to illnesses or accidents may feel like they are the only ones left. This can lead to depression, anxiety, and other problems. Having a daily companion at home can help ensure that your loved one has someone to interact with while still maintaining their privacy.
At Sutton In-Home Senior Care, we are here to help ensure that your loved one receives the best care. Our trained professionals can help with a variety of household tasks while serving as companions. Call us today for more information.
Brooke Sutton, owner of Sutton Home Care and a Springfield native, is a fully licensed Registered Nurse with over ten years experience in the healthcare field.

Brooke provides trusted home care services to numerous patients in the Springfield market which has earned her agency the reputation of being the premier home care agency in this area.
Brooke Sutton's journey to the home care sector began while she was working as a Registered Nurse at Lakeland Behavioral Health.While at Lakeland, she learned and developed her skill working with psychiatric patients as well as patients with Alzheimer's and dementia. After Lakeland, Brooke worked as a Community Health Nurse for the Arc of the Ozarks providing home health care services to dual diagnosis patients living at home.Brooke has also worked in the Emergency Room setting which has given her the ability to recognize and communicate problems and potential issues before they arise.

Brooke and her husband Sean live in Springfield and have three children (Brett who is twelve, Karaline who is eight, and Henry who is four).Brooke is active in church and enjoys spending her free time at Table Rock Lake or with family and friends.
Latest posts by Brooke Sutton, President, RN (see all)