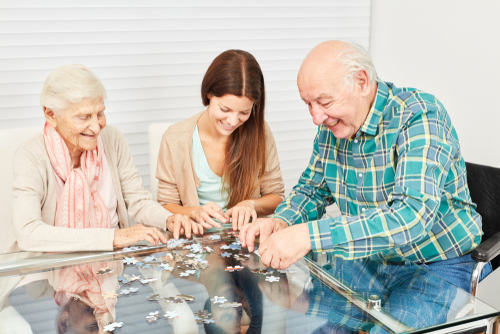 5 Ways To Stimulate The Brain And Keep The Mind Sharp
5 Ways To Stimulate The Brain And Keep The Mind Sharp
Regular mental stimulation is said to help avoid age-related mental degeneration and may even slow disorders such as Alzheimer's and Dementia. If you have an elderly loved one, these tricks  may help:
Sudoku: A fun and engaging numbers game, sudoku requires the player to see patterns and strategize. Because Sudoku is difficult, it can also give one a sense of accomplishment after the puzzle is solved.
Chess: Another classic strategy game, chess is a great way to keep the mind sharp. If your loved one knows how to play, they will likely enjoy the activity with you or friends.
Puzzles: Puzzles are another great way to keep the mind sharp while also keeping busy. If your loved one isn't particularly a big fan of math, puzzles can be a great option.
Memory Games: There are several games on the market that are designed specifically to boost memory in people with early stages of Dementia and Alzheimer's. Some examples include Amazing Chase, a handheld game with marbles and Call to Mind, which is a board game designed to retrieve memories.
Book Club: Reading fictional books is entertaining and retelling what one has read is a great way to stimulate the mind and to train both long- term and short-term memory.
As you choose a memory stimulation task, consider your loved one's needs. Are they suffering from mobility issues? If so, hand-held games may not be ideal. Likewise, if your loved one spends a lot of time alone, games requiring a partner like chess and board games aren't accessible. Fortunately, Sutton In-Home Senior Care is here to help you care for your loved one. We offer a variety of services and our trained professionals can provide your loved ones with high-quality care. Call us today!
Brooke Sutton, owner of Sutton Home Care and a Springfield native, is a fully licensed Registered Nurse with over ten years experience in the healthcare field.

Brooke provides trusted home care services to numerous patients in the Springfield market which has earned her agency the reputation of being the premier home care agency in this area.
Brooke Sutton's journey to the home care sector began while she was working as a Registered Nurse at Lakeland Behavioral Health.While at Lakeland, she learned and developed her skill working with psychiatric patients as well as patients with Alzheimer's and dementia. After Lakeland, Brooke worked as a Community Health Nurse for the Arc of the Ozarks providing home health care services to dual diagnosis patients living at home.Brooke has also worked in the Emergency Room setting which has given her the ability to recognize and communicate problems and potential issues before they arise.

Brooke and her husband Sean live in Springfield and have three children (Brett who is twelve, Karaline who is eight, and Henry who is four).Brooke is active in church and enjoys spending her free time at Table Rock Lake or with family and friends.
Latest posts by Brooke Sutton, President, RN (see all)