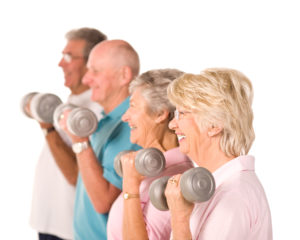 What Are Some of the Best Exercises Your Aging Family Member Can Try?
What Are Some of the Best Exercises Your Aging Family Member Can Try?
Your aging family member might respond to the idea of starting an exercise plan by letting you know that there's nothing she can do. She might be mistaken, however. Some of these exercises can help just about any elderly family member get started moving again.
Water Exercises
Exercises that take place in water relieve a lot of stress from your elderly family member's joints while still giving her a great workout. This is especially important if your aging adult finds that she's in a great deal of pain when she tries to do most types of exercise. Water aerobics and simple swimming are excellent choices.
Walking
If your senior family member decides to take up walking, she really doesn't need any special tools or equipment to get started. Good walking shoes and comfortable clothing are about all she really needs. Your aging adult might opt for walks outside, which can offer a lot of variety and excitement, or she might prefer a treadmill. Either are a great way to get moving.
Tai Chi or Yoga
Yoga and tai chi are two excellent exercises for helping your elderly family member to improve her balance and her flexibility. Neither is hard on joints, so they're a perfect solution for someone who has arthritis. Tai chi and yoga can also help your aging adult learn more about breathing exercises and how her breath affects her overall health and well-being.
Senior Fitness Groups
Senior exercise groups are a fantastic choice for an senior family member who thrives on social activities. These groups enable her to meet other people her own age, try out different types of exercise, and get out of the house for a little while.
Bicycling
If your aging family member is a little more adventurous, bicycling may be more her style. It can help with balance as well as providing a slightly different option for cardio. If you prefer a stationary bike, your elderly family member can get just as much benefit from using it while watching her favorite television shows.
Consider hiring in-home senior care providers to help your elderly family member stick to her exercise program, especially if she's planning to exercise away from home and you're not able to be there with her.
If you or an aging loved-one are considering in-home senior care in Springfield MO, please contact the caring staff at Sutton In-Home Senior Care today.  Call us: 417-865-8812
Brooke Sutton, owner of Sutton Home Care and a Springfield native, is a fully licensed Registered Nurse with over ten years experience in the healthcare field.

Brooke provides trusted home care services to numerous patients in the Springfield market which has earned her agency the reputation of being the premier home care agency in this area.
Brooke Sutton's journey to the home care sector began while she was working as a Registered Nurse at Lakeland Behavioral Health.While at Lakeland, she learned and developed her skill working with psychiatric patients as well as patients with Alzheimer's and dementia. After Lakeland, Brooke worked as a Community Health Nurse for the Arc of the Ozarks providing home health care services to dual diagnosis patients living at home.Brooke has also worked in the Emergency Room setting which has given her the ability to recognize and communicate problems and potential issues before they arise.

Brooke and her husband Sean live in Springfield and have three children (Brett who is twelve, Karaline who is eight, and Henry who is four).Brooke is active in church and enjoys spending her free time at Table Rock Lake or with family and friends.
Latest posts by Brooke Sutton, President, RN (see all)