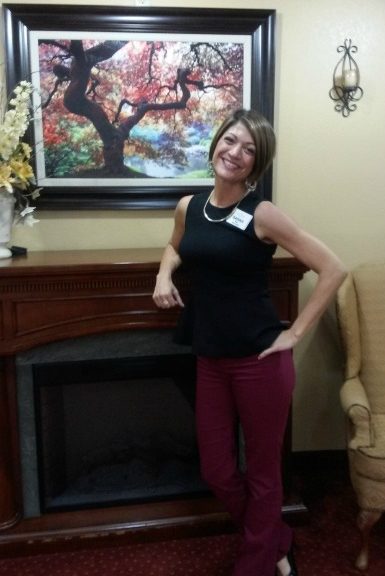 No Place Like Home …. The Cambridge Independent Living Community….
No Place Like Home …. The Cambridge Independent Living Community….
Pictured: Sarah Kiser Sales Leader, The Cambridge

"My life literally changed the day of walked into The Cambridge Independent Living Community 4 ½ years ago," says Sarah Kiser, Sales Leader at The Cambridge, a Holiday Retirement Community. "I knew there was something magical about this community as soon as I walked in."
The Cambridge is located at 2900 South Jefferson Avenue in Springfield, Missouri and is truly an amazing place.  When thinking of The Cambridge you immediately think of sunshine and happiness.   A lot of this is because of Sarah who absolutely adores every single resident and they adore her.
"We treat you like family as soon as you walk in.  You'll be greeted with a hug unless you don't like hugs. You'll know you are going to be safe and secure at all times," Sarah explains. "I know every single person's name and they know me. If families of loved ones at The Cambridge need for us to check on their loved one we'll do it in a heartbeat."

There are tons of activities at The Cambridge …… outings, mystery drives and go get ice cream. There are trips to Branson, picnics to go on and out to eat each month.  No one is required to do anything but it is there if you want to.
"We have the most amazing residents I have ever experienced in my life.  They truly want to have a good time in life.  They have the best attitudes and they love our new residents that come in," Sarah goes on to say. "At The Cambridge, we have a program called Resident Ambassadors.  When someone moves in that's new we will assign them a Resident Ambassador who takes them under their wing, introduces them to everyone, goes with them to activities and makes sure they are comfortable and feel at home."
The Cambridge is a 55 and above community. To learn more about The Cambridge contact Sarah Kiser at 417-882-2223 or visit www.holidaytouch.com.
Brooke Sutton, owner of Sutton Home Care and a Springfield native, is a fully licensed Registered Nurse with over ten years experience in the healthcare field.

Brooke provides trusted home care services to numerous patients in the Springfield market which has earned her agency the reputation of being the premier home care agency in this area.
Brooke Sutton's journey to the home care sector began while she was working as a Registered Nurse at Lakeland Behavioral Health.While at Lakeland, she learned and developed her skill working with psychiatric patients as well as patients with Alzheimer's and dementia. After Lakeland, Brooke worked as a Community Health Nurse for the Arc of the Ozarks providing home health care services to dual diagnosis patients living at home.Brooke has also worked in the Emergency Room setting which has given her the ability to recognize and communicate problems and potential issues before they arise.

Brooke and her husband Sean live in Springfield and have three children (Brett who is twelve, Karaline who is eight, and Henry who is four).Brooke is active in church and enjoys spending her free time at Table Rock Lake or with family and friends.
Latest posts by Brooke Sutton, President, RN (see all)