What Does Alzheimer's and Dementia In-Home Care Look Like?
The World Health Organization reports there are 47.5 million people around the world living with dementia. Alzheimer's disease is responsible for about 50 to 70 percent of all cases of dementia. There are more than 3 million US cases of diagnosed dementia each year.
In many of our Alzheimer's and dementia home care cases elderly patients are battling multiple issues, not just Alzheimer's or dementia. Many patients have had a fall at home or maybe a stroke and are receiving home health or rehab services in conjunction with traditional private duty home care. Our caregivers work with the family to maintain the rehabilitation schedule provided by the home health agency/physical therapist as well as basic ADL's (cooking, cleaning, bathing, toileting, etc.). Brooke Sutton, RN works directly with every family to create care plans that will ensure the best possible outcome for your loved one.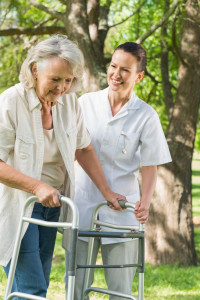 Sutton Home Care only hires caregivers with at least 2 years of verifiable Alzheimer's home care or dementia home care experience. The family dynamic that exists for dementia patients living at home can be very complex and challenging for the patient and existing family caregivers. Many families we work with are struggling with the difficult reality of their loved one living at home with them and figuring out how to effectively manage their diagnosis. These family dynamics require caregivers that are experienced and trained in being in challenging situations with uncooperative patients. Our caregivers are your ally and work with you to make sure your loved one is comfortable, safe and progressing at a pace that everyone is comfortable with.
We are often told by new hires that being a caregiver for Alzheimer's and dementia home care patients is 'a calling from above' and we believe it is, as well. Many people claim to have the skill set required to care for dementia patients but lack the temperament and personality to keep dementia patients de-escalated, safe and comfortable. At Sutton Home Care, we make finding the perfect caregiver with the most experience one of our top priorities. Because every patient has different needs, Brooke and her caregivers are constantly learning and developing new and innovative ways to support our patients and their families.
There are many options available to families trying to provide care for a loved one suffering from dementia or Alzheimer's. In-home care is only one of those options and is not a fit for every patient. Do you have questions about in-home dementia/Alzheimer's care or how we might be able to facilitate home care for you or your loved one? Call us today. Brooke will be available to you for any questions you may have. Thank you for visiting our website. We hope it was helpful in your journey!