Verified Reviews As Seen on Caring.com
Average rating:
6 reviews
Jul 27, 2016
I believe care of the elderly is as important as care for children. My Dad living in MO, (my sister in MI me in IL) pasted before the care actually started but I felt very strongly to write this review. I worked closely with one of the coordinators at Sutton and her name was Jo. She was very helpful and personable. She knew my Dad before she ever met him and when she did she could tell he was everything I said and more. My Dad really liked her and was very comfortable with the choice. He would only agree to a few days a week and Jo worked to accommodate that. Thank you for your hard work and I will never forget.
Oct 23, 2015
I have been very pleased with Sutton. They're very professional, yet very caring. They're in my home 10 hours each day taking care of my mother.
Sep 14, 2015
The best word to describe my experience with Sutton is excellent! I've had no complaints at all. They've just been wonderful, caring and they do a good job. My father fell last week and injured his arm. Nicole, our caregiver, was very good in taking care of him. She's always on time and if if something comes up, she would inform me ahead. I can't say enough good things about her.
Sep 11, 2015
In caring for my mother and father over the years, I've used a variety of services to help them remain at home. No agency attended to my parent's needs as well as Sutton. Their employees are good. It's not that I was not happy with the other agencies I used. It's just that Sutton is so meticulous in their approach. They are so hands-on with their care. They made it an easy decision for me to keep my parents at home.Sutton is more flexible than any other agencies I work with. If I had to make an adjustment at the last minute, they would always accommodate me. I was not restricted with hours. Whatever we needed from them and whenever we needed them, they were there. The owner just really went to great lengths to make us feel us a family and that we were their top priority.The caregivers are professional and ethical. They care for my mother as though she was a member of their family. They made a nice appearance. They were really just professional in every way.
Aug 26, 2015
I was extremely pleased with the professional care Brooke and her staff showed to my grandparents. Brooke was fantastic to work with and always easy to reach when I had any questions. Brooke and her staff showed so much care and compassion toward my grandparents, I always knew they were taking excellent care of them. I would highly recommend them to any family.
Apr 23, 2015
Everyone from the first phone call to even now, has been friendly, caring, professional and genuine. I met with Brooke and within 2 days she found a perfect person to help care for my mother. Michelle was very caring, warm and professional. My schedule and needs changed often with short notice. I knew when I called they would be there when we needed them. So grateful.
Mailed in Customer Reviews and Thank You Notes
Date:  12/05/2016
Dear Brooke,
We want to take a moment to thank you for all your help with Grandma.  Honestly, I don't know how we would have done it over the past year and a half without you and the people you brought into our lives to come alongside us.  Thank you for everything, Brooke.  And especially, thank you for going the extra mile to spend time with us on Grandma's last day.  Having you there was a comfort and you were so reassuring to us all.  You played an important part in Grandma's life and we are so grateful for you.
From the bottom of our hearts,
B.K. and the W. Family
Date:  03/16/2017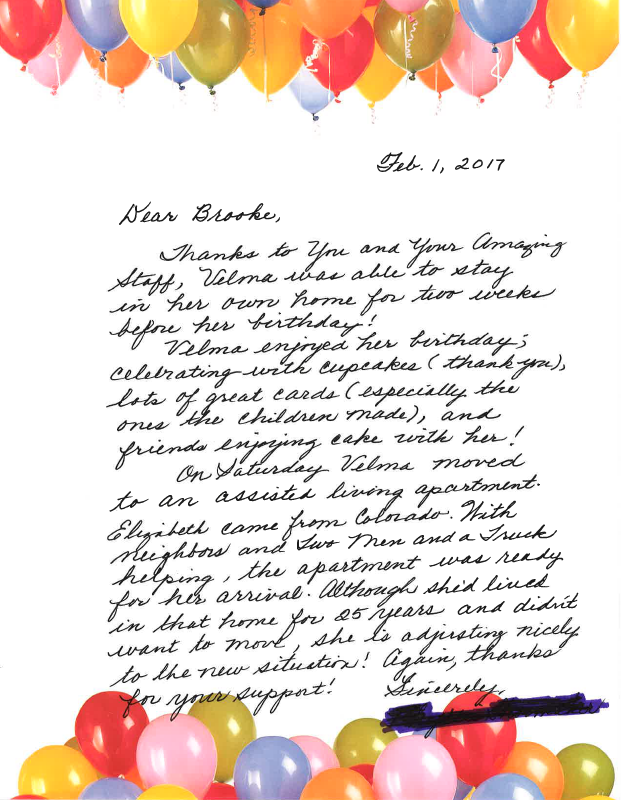 Transcribed:
Dear Brooke,
Thanks to you and your amazing staff, Velma was able to stay in her own home for two weeks before her birthday!
Velma enjoyed her birthday; celebrating with cupcakes (thank you), lots of great cards (especially the ones the children made), and friends enjoying cake with her!
On Saturday Velma moved to an assisted living apartment. Elizabeth came from Colorado. With neighbors and Two Men and a Truck helping, the apartment was ready for her arrival. Although she'd lived in that home for 25 years and didn't want to move, she is adjusting nicely to the new situation! Again, thanks for your support!
Sincerely,
Velma's Daughter-In-Law (Hidden)
Date:  03/22/2017
All the employees and caregivers at Sutton In-Home Senior Care were a pleasure to work with after my grandfather's fall. They were able to accommodate the various hours he required in order to meet his recovery goals.
David Sikes